2019 VW Atlas Review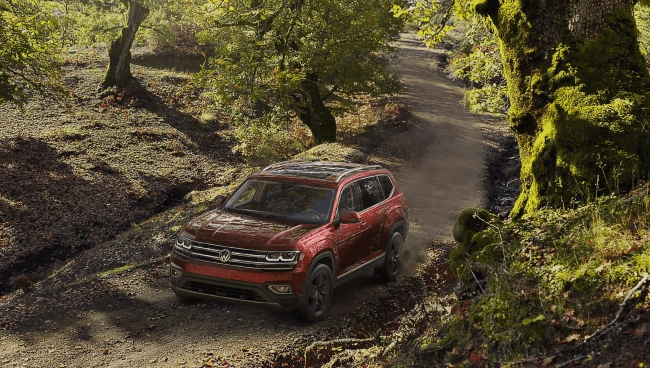 2019 VW Atlas Review
Looking for a car that drives like a dream that you never have to wake up from? Why not choose a Volkswagen, as they offer some of the most durable and reliable vehicles on the automotive market today? In this article by Pfaff VW and our Newmarket dealership, we will be discussing the 2019 VW Atlas review, so why not stay tuned and check out what could make this the vehicle of your dreams!
 Total Control Ensured
Thanks to the equipped 4MOTIONⓇ All-Wheel Drive system, stay in complete control wherever you go in this SUV. This innovative system reacts to driving conditions and can instantly deliver power to the wheels that call for it most, keeping you in control and confident behind the Atlas's wheel during every season. Snow Mode, On-Road Mode, Off-Road Mode, and Off-Road Custom are the four tailor-made modes that deliver precision, power, and handling when you need it the most.
Versatile Cabin Is Yours
Thanks to the 7 available passenger seats, split into 3 rows that can easily be adjusted to fit the whole family and their cargo, the versatile nature of the cabin is yours to command. Unloading and loading passengers of all ages is easy, as the seating can be quickly moved and adjusted to take into account the situation. The available power liftgate with Easy open function makes the process even more convenient, as the Atlas can open without the use of your hands. Mix and match the seating arrangements, and access up to 2,741 litres of cargo space with the second- and third-row seats folded flat!
The Pfaff Difference
The 2019 Atlas model is currently offered at the best price first! We are rolling out a new way of doing business with our customers, as we offer our best, and lowest, price upfront, doing away with lengthy and stressful negotiations to create a straightforward and exciting car-buying process. There are zero admin and pre-loaded fees attached, and we will provide you with a written offer to buy your current car! Unload your old vehicle here, and take home the Atlas at an accessible price- all thanks to the Pfaff difference.
With our 2019 VW Atlas review in mind, why not stop by Pfaff VW and our Newmarket dealership to experience this versatile and capable SUV for yourself! Visit us at 16885 Leslie Street, and take advantage of our new business model this summer season.
Please click here to find our contact information online, and get in touch with one of our friendly and knowledgeable representatives to learn more about our best price for the Atlas.