Buy A Used Car in Newmarket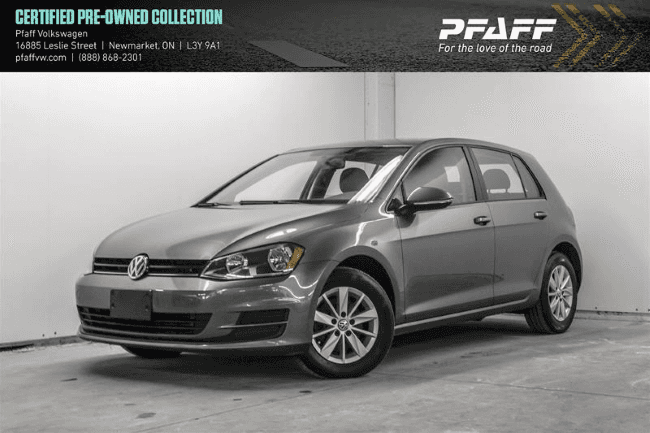 Buy A Used Car in Newmarket
Just because you want to purchase a used vehicle doesn't mean you deserve second best. At Pfaff VW, our Newmarket dealership is well equipped to provide residents and beyond with high-quality used cars for their driving pleasure. If you want to buy a used car in Newmarket, that can still provide you with many good years of use, then visit us at Pfaff VW today. Read on to learn about our extensive inventory!
Certified Pre-Owned
Our Newmarket dealership has an array of Certified Pre-owned Volkswagens for you to test drive upon your visit to our facility. This collection of high-quality used cars must first undergo a rigorous inspection and testing protocol before it can obtain this certification. This allows our factory-trained technicians to inspect the vehicle in question, facilitating any repairs with genuine parts if needed, all to make sure it is up to the high standard of the VW name.
Pfaff Group-Wide Inventory
One of the great things about purchasing a used car at our Pfaff dealership is the fact that you get access to the Pfaff's group-wide inventory, letting you peruse a collection of quality vehicles of almost every make and model on the market today. With amazing choices at your fingertips, you have the freedom and the opportunity to find a used car that suits your every driving need.
Under 10K
We even offer a collection of used cars that are priced below ten-grand to provide the surrounding area with vehicles that can fit any budget. This category provides used VW models as well as other quality brands across the automotive industry.
Test Drive Today
With so many options available at our Newmarket dealership, you can easily find a vehicle that speaks to you. Once you have, our great test drive options will help you decide if the car in question is the perfect fit! You can choose to test drive your desired model at home, overnight, or for an extended period of time, so you can be sure you are making the right decision.
Newmarket residents are invited to Pfaff VW to experience our great pre-owned inventory today. Schedule a test drive of your desired model before you decide to buy a used car in Newmarket.
Please feel free to continue to browse our website, or click here to find our contact information online, and send us an email with your inquiry, give us a phone call, or visit us in person at 16885 Leslie Street!