Features Of The E-Golf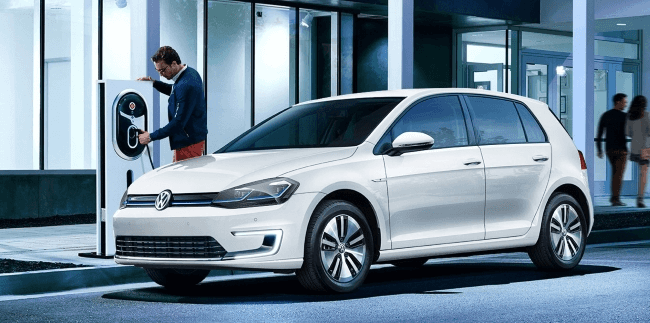 Features Of The E-Golf
Do you see an all-electric vehicle in your future? Would you like to drive a car that offers cleaner transportation and a green alternative to contemporary gas-guzzling automobiles? No need to wait for the future, as the new E-Golf is ready and waiting for you at Pfaff VW, right now! To learn about the features of the E-Golf, and available models waiting for you at our Newmarket dealership, please keep reading below.
Long-Range Driving
Boasting an estimated range of over 200 kilometres of driving, one charge is all you need to go further, for longer, without the need, or use, of gas! 214 lb-ft of instantaneous torque is yours to command when you place pressure on the pedal and shoot from 0 to 100 km/h in approximately 9 seconds.
Home Charging
With two available options, quickly charge your new E-Golf at home with the FLOW Home™ X5 or G5 home charging stations. Opt for the X5 and connect your electric vehicle to Canada's most reliable charging network, and track usage and configure your settings online for easy access. Choose the G5 charging station instead, and gain a convenient way to juice up your E-Golf without the network connectivity.
Cutting-Edge Technology
The technology of clean and electric driving isn't the only thing waiting for you in the new E-Golf, as Volkswagen brings their innovative features to the cockpit of this capable car. An available Discover Pro 9.2-inch touchscreen for easy access to the vehicle's electrical information, and take intuitive command of your media, for fun and informed driving in every instance.
Our Best Price First
Even our cutting-edge all-electric vehicle model is offered to our customers at our best and lowest price up front! The amount of the vehicle is exactly as we provide, as there are no hidden fees or admin costs waiting to surprise you at the bottom line. At Pfaff VW, we want to make the car-buying experience a fun, exciting, and straightforward process for you. To learn more of the futuristic features of the new E-Golf, why not stop by our Newmarket dealership at 16885 Leslie Street to talk to one of our friendly and knowledgeable brand representatives this July.
Please feel free to continue to browse our website, or click here to find our contact information online, and fill out our contact form to learn more about this all-electric addition to Volkswagen's lineup, or to schedule a test drive today.