Find a Quality Pre-Owned SUV

Find a Quality Pre-Owned SUV
Purchasing an SUV may see you dropping a hefty sum of money if you want to obtain a powerful and versatile machine; however, there is a way to save some of that cash and still receive a quality-made, and reliable SUV for use. So how does that work? First, continue to read through this article to learn about our great deals, and then stop by to find your perfect SUV at Pfaff VW, conveniently located in the Newmarket area!
Certified VW
Buying a quality used vehicle is much easier now than ever before, thanks to the creation of Certified Pre-Owned Programs. Used VW models on offer at our dealership, and that fall under this certification, have undergone an extensive 112- point inspection by our skilled technicians. During this process, our expert team will assess the car, and, if required, repair any damages with VW factory-made parts, to bring it back up to the high standard in line with the brand. Only recent models, with a limited amount of kilometres driven, are accepted past the first step of the program. This way, you can be assured that you are obtaining a high-quality and completely reliable SUV for your driving pleasure.
Warranty
As part of the Certified Pre-Owned Program, vehicles that pass the inspection and are given this certification also obtain warranty coverage. Depending upon the age of the specific VW, it could still be partially covered from its existing warranty, with the option to lengthen the coverage and obtain more services in the process.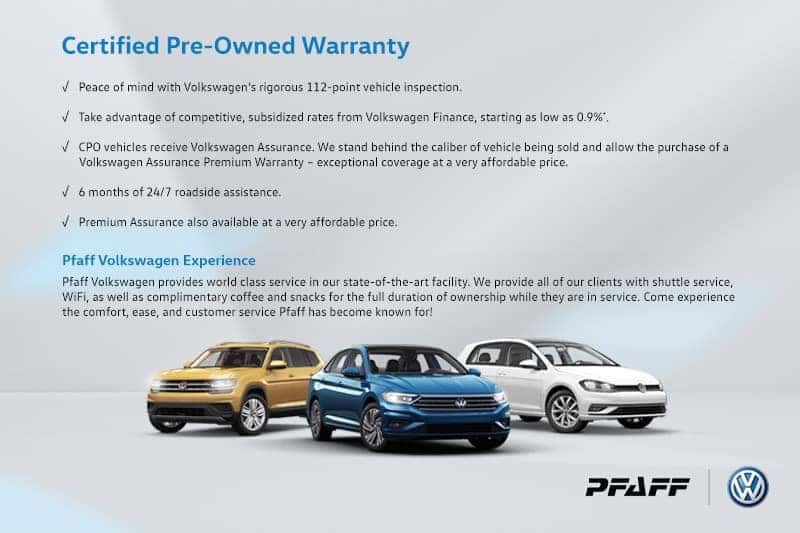 Lower Depreciation
Over 20% of the entire value of a new vehicle is lost the instant it is driven off of the lot, with even further decreases in depreciation seen in the first year of use. By purchasing a pre-owned SUV, you can obtain all you are looking for from a product that will hold its value better, and without the substantial hit to the depreciation. Cars that are just one year old will see you with minimized losses upon purchase.
 Find Your SUV Today
Drivers in Newmarket on the hunt for a quality pre-owned SUV can find all that they are looking for here at Pfaff VW. Visit our facility at 16885 Leslie Street, and test drive one of our exceptional Certified Pre-Owned vehicles today.
Please feel free to continue to browse our website, or click here to find our contact information, fill out our contact form for further assistance, or to learn more about our quality used lineup!