Find a Volkswagen e-Golf in Stouffville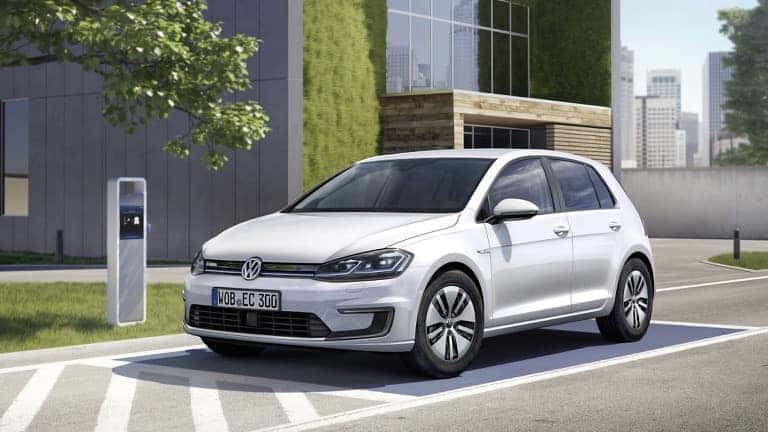 Find a Volkswagen e-Golf in Stouffville
It handles like a Golf and hauls cargo like a Golf, but that little e in front of its name means it does both of those things while using zero gasoline. The all-electric 2020 Volkswagen e-Golf is the German automaker's answer to the Tesla Model 3 and the Nissan Leaf. But unlike either of those EVs, the e-Golf could easily be confused with the internal combustion version of VW's compact hatchback. If you are looking for a vehicle in Stouffville, ON that does not take gasoline to operate, then the 2020 Volkswagen e-Golf could be the right fit for you. Located in Newmarket, ON, our Pfaff VW dealership is ready to assist you with finding your next Volkswagen vehicle. In this blog by Pfaff VW, we talk about some of the features of the Volkswagen e-Golf in Stouffville, ON!
Click here to begin browsing through our inventory of new and pre-owned Volkswagen vehicles at Pfaff VW!
Torque that's ready when you are
The e-Golf is proof that going electric doesn't have to mean compromising performance. When you combine performance engineering with electric power, it's not just responsible, it's also agile, versatile, and fun to drive. The power goes right to the wheels without hesitation, so you press the pedal and go. And range is just one impressive performance statistics.
Get home. Get charged. Get going
Charge your e-Golf faster with the Electric vehicle wall mount home charger. Equipped with 7.6kW of charging power, it charges your vehicle six times faster than the cottage cable that came with your e-Golf. That means a full charge comes sooner, and so does getting back on the road. Time to take charge. With e-Golf DC Fast Charging capabilities, you can take advantage of fast-charging stations around town or on the road.
Regenerative braking modes
When you brake or lift your foot off the pedal, the e-Golf converts the energy to electricity to help recharge its batteries. The higher the regenerative level you select, the more the car slows down when you lift your foot. You'll experience e-Golf performance in Normal mode. Switch to Eco mode for a happy medium of performance and efficiency. Or to help maximize your range, put it into Eco+ mode for more conservative battery usage. So pick a mode. Any mode.
Welcome to a hi-tech environment
The motor is electric. The inside is electronic. You can check out fully digital displays, access your favorite apps, and get connected with your compatible device. All from the comfort of your own hi-tech cockpit.
Why buy from Pfaff?
The Pfaff difference is all about selling you a car the way you want to buy it. We're no longer operating with old-school sales tactics where different customers get different deals.
With upfront pricing, you won't have to negotiate. We won't add any additional fees to your deal. If you have a vehicle to trade, we will give you a written offer with no obligation to buy any of ours. And you can't buy the wrong car with our return and exchange policy.
Visit us today to experience the Pfaff difference.
Stouffville, ON customers looking for an electric vehicle as their new daily driver should consider a Volkswagen e-Golf from Pfaff VW! You can get more information about this electric Volkswagen vehicle by contacting a Pfaff Vw representative or scheduling a test drive on our website. Click here to find our contact information, schedule a test drive, or to speak with a representative.