Looking For A 2019 Volkswagen Jetta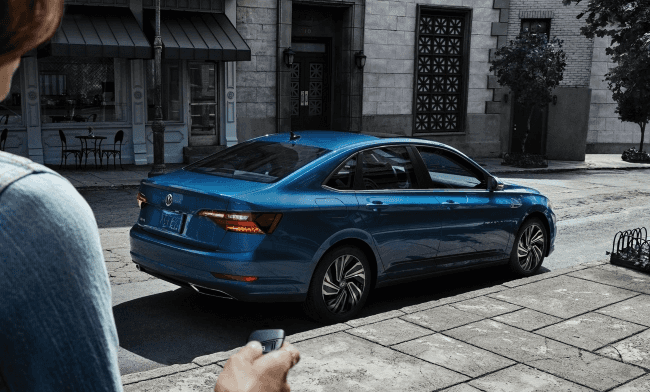 Looking For A 2019 Volkswagen Jetta
Are you located in the Newmarket or surrounding area, and are looking for a 2019 Volkswagen Jetta for sale? If so, then come on down to Pfaff VW and our local dealership to get your hands on the latest Jetta model produced by one of the most reliable automotive brands on the market today! Learn more about the latest features of this year's Jetta model below.
Airy Cabin
Stay calm and collected in the driver's seat of the latest Jetta, as it offers driver and passengers alike a comfortable cabin with enough added features to feel luxurious in nature. Mirror your driving mood with the available ambient interior lighting, with ten different colour choices, and let the air in with the rail 2 rail sunroof to further the interior's spacious feel. Opt for the available ventilated front seats as well, and stay as cool as a cucumber in the most stressful of driving situations.
Standard Means More
All 2019 Volkswagen trim models come equipped with the brand's cutting-edge technology known as App-Connect, with rearview camera capabilities, and a Post-collision braking safety feature. VW offers all of the latest models with these exciting features, all as a means to produce highly reliable, and thrilling, cars for their loyal customers and brand enthusiasts- at no added cost!
Test Drive Today
Extended, at home, and overnight test drive options are now available at our local dealership, as we strive to offer our clients a stress-free and exciting driving experience to ensure that the car in question delivers everything they first thought it would. Take home this year's Jetta and let the whole family try it out with you! Only after you feel as though you've gotten to know this Volkswagen's capability and high-performance output, should you come back to our dealership and make your ownership official!
Contact Us
Therefore, Newmarket residents looking for a 2019 Volkswagen Jetta, can secure themselves a top-of-the-line VW model right here at Pfaff VW. Our dealership is locally situated in the community at 16885 Leslie Street, as we offer the area great deals on the entire brand lineup this summer season.
Please feel free to continue to browse our website, or click here to find our contact information online, and get in touch with one of our friendly and knowledgeable representatives to learn more about the Jetta, or to schedule an extended test drive today.