Pre-Owned SUV at Pfaff VW in Newmarket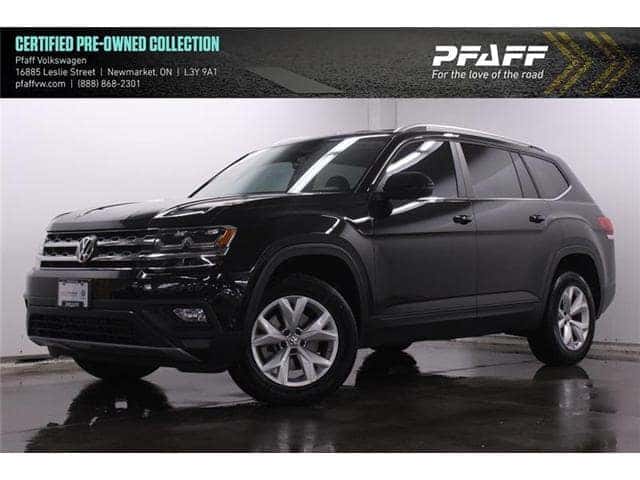 Pre-Owned SUV at Pfaff VW in Newmarket
New car smell, single- or double-digit numbers on an odometer, and the pride associated with driving the latest and greatest redesigned vehicle are powerful intoxicants, but they cost vehicle buyers plenty of money in terms of depreciation. What's depreciation? That's the decline in a new vehicle's value, which starts from the moment you sign on the dotted line. Are you trying to avoid this? Are you looking for an SUV? At Pfaff VW in Newmarket, our customers can find a pre-owned SUV that suits their needs. Read on for more information about why you should consider buying certified pre-owned.
Warranty
The biggest benefit of choosing a certified pre-owned car over a standard used car is definitely the warranty coverage. It's true that some used cars might have some of their factory warranty remaining, and that means you're already covered by a warranty, even if something breaks. But certified pre-owned programs extend existing warranties, which gives you coverage for a longer term.
Quality Vehicles
Another benefit of buying a certified pre-owned vehicle is that they tend to be better quality than a run-of-the-mill used car is. Dealers only issue certified pre-owned warranties after a comprehensive inspection that makes sure the car in question doesn't have any serious defects or problems. If the car had serious problems, the manufacturer wouldn't want the dealer to offer it with a warranty, because the automaker will likely end up losing money on the transaction. Finding a certified pre-owned SUV that has been inspected thoroughly is easy when you choose Pfaff VW.
Peace Of Mind
In some cases, roadside assistance is also included with the purchase of a certified pre-owned car. While that isn't always true, automakers that include roadside assistance give their drivers yet another layer of peace of mind; those drivers can usually get free towing, rental car reimbursement and other benefits in case their certified pre-owned vehicle happens to break down during the coverage period. Your pre-owned SUV breaking down is not something that our customers have to worry about, however, anything can happen, and it is always good to be prepared with quality assistance services.
Finding a pre-owned SUV at Pfaff VW in Newmarket is easy! We have a very large selection of pre-owned SUVs with models like: VW Tiguan, VW Touareg, and the VW Atlas. For more information about why you should consider a pre-owned SUV from Pfaff VW, please feel free to continue browsing through our website. Click here to find our contact information, schedule a test drive, or to fill out our contact form.