Test Drive The VW Golf GTI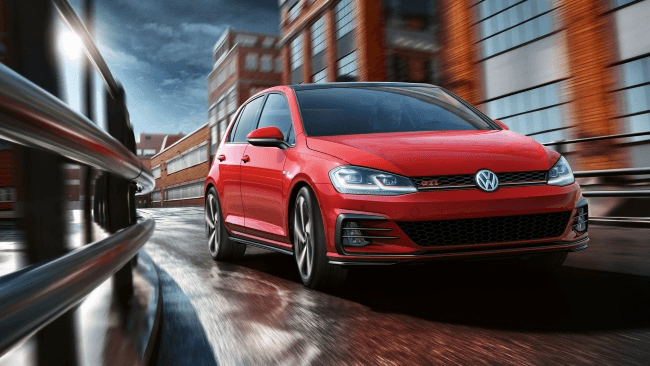 Test Drive The VW Golf GTI
At Pfaff VW, we do everything in our power to make our Newmarket dealership the perfect place to find and acquire the vehicle of your dreams! Volkswagen knows how to excite with their entire lineup, especially when it comes to the sporting nature of the Golf GTI! Interested in experiencing the superior handling of this VW? Visit our local dealership and test drive the VW Golf GTI this July! Stay tuned below to find out more details about this capable car.
Powerful Performance
An astounding 228 horsepower makes its home under the hood of the latest GOLF GTI to hit Canadian dealerships. With a choice of a 6-speed manual transmission or 7-speed dual-clutch Tiptronic®, you decide how to take command of this VW's powerful engine.
Sporty Handling
Possessing a lower centre of gravity, and an integrated firm and well-balanced sport suspension that puts other vehicles to shame, dynamic driving is ensured for every drive. Precision handling allows you to conquer the curviest of roads, and thanks to the sports-like, muscular design of the GTI, you'll look good doing it too.
Added Luxury
With available features that further the luxurious feel, why not opt for the available LED headlights and a panoramic sunroof to gain the most out of the new Golf GTI. Look sharper, shine brighter, and see further as the LED headlights make night driving a cinch. The available panoramic sunroof, spanning two-thirds of the roof, adds an airy feel to the cabin and puts the finishing touches on this Volkswagen.
Test Drive Today
With extended, at home, and overnight test drive options waiting for you at Pfaff VW, we make it easier than ever to test drive the VW Golf GTI on your terms! We don't want you to rush this exciting experience, as we provide you with the time and stress-free terms that will allow you to soak up all this Volkswagen has to offer. Once you are sure of your choice, swing by our Newmarket dealership and make your ownership official!
Visit our local dealership at 16885 Leslie Street, in the Newmarket area and get the car-buying process underway today! Please feel free to continue to browse our website, or click here to find our contact information online, and get in touch with one of our friendly and knowledgeable representatives to learn more about our ongoing specials and financial services that can help you get behind the wheel of this Golf model for less.