Which Volkswagen should I choose for towing?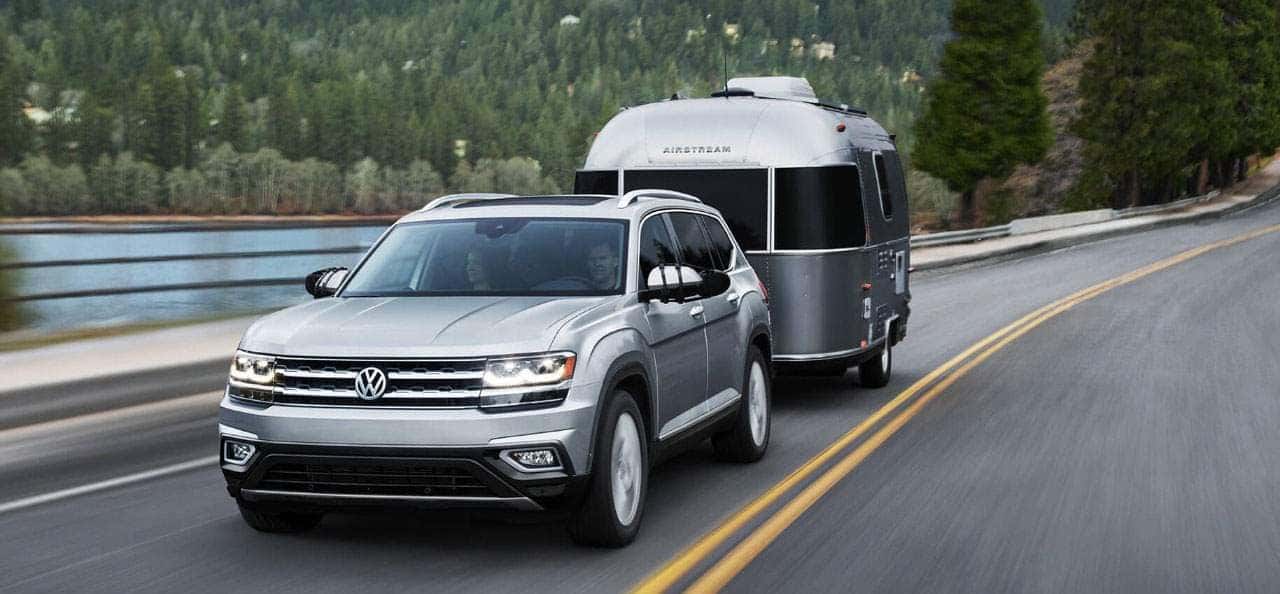 Which Volkswagen should I choose for towing?
Summer is quickly approaching, and for many Canadians, it's time to hit the roads and explore. Whether you're heading to a cottage or camping, driving down south, or anywhere in between, the summer road trip has become a family-sized rite of passage, and a tale of towing. Lucky for us, the rise of the SUV has made long-distance driving comfortable and easy. The midsize Volkswagen Atlas, for example, features customizable seating and cargo space, with room for up to seven people, and plenty of legroom to boot. Add in impressive fuel economy, a suite of advanced safety features, and the latest in media connectivity, and you've got everything you need on four wheels. If you are looking for information about which Volkswagen you should choose for towing, then you have come to the right place. In this blog by Pfaff VW, we share some information about the Volkswagen Atlas for towing! 
Powerful engine means big torque
The Atlas' towing prowess comes from the family SUV's robust 3.6-litre VR6 engine. Big and brawny with plenty of power, it's capable of kicking out a whopping 276 horsepower and, most importantly from a towing perspective, 266 lb-ft of torque. For those looking for something slightly smaller, the Atlas also offers a 2.0-litre turbocharged four-cylinder engine. With 235 horsepower and 258 lb-ft of torque, the towing capacity is reduced to 2,000 pounds. Or, enough to tow a trailer outfitted with a canoe, kayaks, bikes, or a small boat.
AWD adventure 
Summer road trips often require driving on rough country roads. The Atlas will keep you moving smoothly with its available 4MOTION® All-Wheel Drive system. Designed to provide added traction right when you need it most, 4MOTION® automatically directs power to the wheel or wheels in need of extra power. The Atlas AWD system also includes other customized driver modes, including Off-Road, Custom Off-Road, Snow, and On-Road. The On-Road model includes sub-settings for Sport, Eco, and Normal, while the Custom Off-Road includes Hill Hold Assist, for helping you start on a steep incline or decline.
The cargo king 
Of course, a road-tripping vehicle is only as good as its cargo capacities. And here, the Atlas truly shines. Depending on your seating configuration, this midsize SUV offers up to 20.6 cubic feet of cargo space behind the rear seats. Fold-down the second-row and third-row seating, and you've got a whopping 96.8 cubic feet. What does this mean? Trust us when we say you can fit it all in, and then some. But that's just in the back. The Atlas also includes under-floor storage with felt lining, four trunk tie-down hooks, plus the ability to add a roof rack. Because really, you can never have too much stuff.
So, which Volkswagen should you choose for towing? Ultimately, the choice is yours, however, the Volkswagen Atlas maxis a very good case. We encourage you to continue browsing through our website for more information about the features of the Volkswagen Atlas. Additionally, with that, click here to learn more about the Pfaff Difference.  
Click here to find our contact information, schedule a test drive, or to speak with a representative.